We are proud to announce the release of our newest addition to the OWL Intuition family; the OWL Z-Smart!
Specifically designed to work in conjunction with OWL Intuition-pv, OWL Z-Smart displays live data for generation, export and consumption in both KWh and cost values.
The OWL Z-Smart connects with your network OWL gateway - providing a secure connection to the OWL Intelligent Cloud software platform. The Network OWL Gateway automatically sends energy consumption and generation data to the Z-Smart from the OWL Sensors and Transmitter. This can then be viewed via a clear, easy-to-use display showing live numerical and graphical data.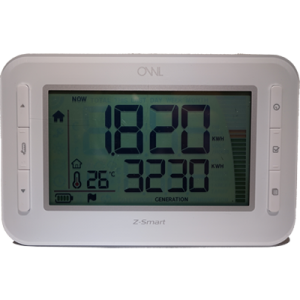 We've designed the product with ease of use in mind - therefore the unit has simple functions and is very straightforward to set up! Simply press a combination of buttons to put the Z-Smart into pairing mode, click a few buttons on the online dashboard, and you're all set!
Please note, the OWL Z-Smart is designed for use only with a fully operational OWL Intuition -PV system.